Ryder Cup 2016 Accommodation Package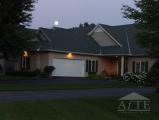 GROUP ACCOMMODATIONS FROM 6 TO 24

4 privately owned homes on private Cul-de-sac with accommodation for 6 to 24 people on the 11th Fairway of the nationally ranked Chaska Town Course. These homes offer 3300 to 4000 square feet of living space. The homes are closely located to each other, all are privately owned and uniquely decorated by each owner. All have 3 bedrooms, open floor plans with 10 foot ceilings, private offices, modern appliances, fireplaces, Jacuzzi tubs and decks overlooking the 11th Fairway. Some include fire pits and saunas. All have Master Bedroom Suites with private baths. Close to area are Medical facilities, Super Target Store, grocery stores, great restaurants and micro-breweries. All include free Wi-Fi, Cable or Satellite TV with from 2 to 5 TV viewing areas for round the clock Ryder Cup coverage. Fall is a great time to visit Minnesota. Warm days, cool nights. Some Practice Round Tickets available. Most units have men and women bicycles available for biking the many trails and pathways around Chaska. Assistance available 24/7. Additional services available upon request to make your stay and enjoyable and memorable one.

The Chaska Town Course Club House/Restaurant is a 4 minute walk up the cart path. The restaurant offers a great menu and the Chaska Town Course is a challenging course to test your golfing skills during your Ryder Cup stay.